NordicTrack C-700 Treadmill Review
About NordicTrack C-700
NordicTrack C-700 is a light weight treadmill made with minimal amount of steel in the frame. It is a combination of recent day treadmill facilities and cheap prices, making this machine an ideal one for those customers who are not looking forward to paying a hefty fee for a workout equipment. But with its cheap price bracket you are to expect some cut downs in the features. The facilities aim to make things easier and simplistic for every user. C-700 has workout programs and due to its iFit enabled console the buyers have access to literally unlimited online feature and workout procedures. The treadmill is also giving buyers the option to create customized schedules, diet plans and workout plans that they think will give peak results. Users are allowed to manually maneuver the speed and incline or they can enjoy automatic adjustments by following workout programs. C-700 has a 10 mph top speed and a 10% incline range. MP3 compatible speakers are also included in the treadmill.
Quick Review
The NordicTrackC-700 serves all your needs related to entertainment and working out.The C-700 is suggested to those users who don't always look for an extreme work out session when they think about exercise. Typical Treadmills don't always provide intense workouts either. However, if you have decided to stay healthy and in shape you can make use of the C-700. The C-700 iscommonly available and is equipped with an electrical motor, roller, tread belt, deck and electrical components. The user doesn't have to produce manual labor and can easily understand the operations of the machine. This treadmill gives a boost to your stamina, your lung capacity, improve your cardio health, tones up your muscles, helps you stay zealous and attain better concentration levels.
NordicTrack C-700 is veryuser friendly and welcoming as much asit can be. It has state of the art facilities in it. This NordicTrack low end treadmill brings you those resources that were only previously available in the high end manufactured products. These high end resources help amateurs to become aware of the athletic potential in treadmills and encourage them to stay healthy. Much like which is practically built for beginners.
The NordicTrack C-700 is one of NordicTrack's low price models available in the market. It carries most up to date facilities in a low price bracket. Users can now start their workout as easily as a touch of a button every day. The exercise that this treadmill offers is by far the most effective and comfortable form of exercise with features like Flex select cushioning and 10% incline. This machine gives you full autonomy over your environment making it easier for you to control it and stay motivated in your own house. The fact that you have to stay indoors to workout means that you don't have to be afraid of negative externalities like privacy invasion, bad weather, pollution and safety of your own self.
Workout Variety
Treadmills offer you 4 different categories of working out. You can walk, jog, run or hill climb. Walking being a good start for beginners comes as the most basic form of exercise, it requires the least amount of effort and energy to be put in. On a treadmill you can start off with low speeds through one touch action. It is a gradual process but is surely an effective one. Doctors recommend walking to those patients who want to tackle obesity or joint pain. It has low impact on your knees and ankles and with shock absorption facility called "FlexSelect Cushioning" in the C-700, it further lowers stress on joints. While jogging is a slight step up from walking, it still offers similar results and has a mutual process but requires a bit more effort and energy to be put in. The C-700 is equipped with proper functions to make both of these processes easier and more comfortable for the customer.
Running, however, is a big step up. It is not for everyone to try out, especially those individuals who have just now started a healthy routine. Running requires agility and strength, hence people either hate to run or love to run. There is no in-between. For runners, modern day treadmills have pre-installed or online programs to offer. The C-700 has 20 built in workout programs, designed by professionals that anyone can follow to reach their weight, fat and calorie goals. They are target oriented and focus on categories like calorie burn, speed interval training heartrate control, etc. These programs gives the autonomy to a person to decide the perfect workout for themselves, whether it be an intense workout that gives the desired results or a comfortable workout routine one would like to follow every day. The C-700 also has a spacious deck to offer which is great for tall individuals so they can move freely.
The C-700 gives you the option for inclining the ramp up to 10% and has programs that allow automatic varying speeds and incline rate throughout the workout process, letting to concentrate on your progress with ease, giving you a total handsfree experience. Moreover, hill climb workouts can be taken up by both, runners and walkers. Hill climbing on a treadmill is used for a range of reasons. It can be used to mix things up when working out, in order to keep the users interested in exercising and steer away from redundancy, or to sculpt your body's endurance for long distances like marathons or hiking trips. With the C-700treadmill all you have to do is press a button and get started and even make use of different available programs and applications to reach your desired goals.
Outdoor Running vs Indoor Running
People argue that all of this can be accessed without paying a fee, all you have to do is step out of your homes. There is no doubt that you can save a little cash and go out but the truth is it's not as simple as just stepping out of your home, you have to take several other factors into consideration. Running outside people may feel more exposed, making those who prefer a degree of privacy hesitant to start working out. Running outdoors can be dangerous, people living in unsafe neighborhoods can't leave their houses at night in fear of criminal activity. It also becomes cumbersome to keep count of your calories or even sometimes the distance you've covered during your exercise.
The C-700 is not a very expensive machinery to buy. With this treadmill you can stay at home and be able to control your environment better, you don't have to be worried about your safety and privacy. This model has a multi-window LED screen display that constantly tracks your calories burned, the total time you've been running, the distance you have covered, your speed and the incline rate. Additionally, using the handlebar sensors, you can track your heartrate to stay within safe limits, while working out. None of this would be possible if you chose to workout outside.
Lineaments
The C-700 has a powerful2.75 Continuous Horsepower motor that gives you the ability to use the machine for long distances on different speeds and incline levels, in order to help you complete any sort of training program you are following or your personal bespoke routine. The motor comes with a 25 year warranty, meaning you don't have to worry about spending another penny if something goes sideways.  C-700 also has a top speed of 10 mph (16 km/h), accompanying the motor, making it a reliable choice for users looking forward to incorporating, running in their daily routines. Brisk walking and jogging will become a hassle free process.
10 incline levelsgive you a more challenging workout option. You can use the machine on zero incline level and give it a smooth street-like touch, or you can adjust the inclination on the machine to mimic a more complex and difficult terrain. If you subscribe to the iFit application, it will give you workouts where the machine will adjust the incline levels automatically while the program is running and you'll reach your fitness goals with total ease.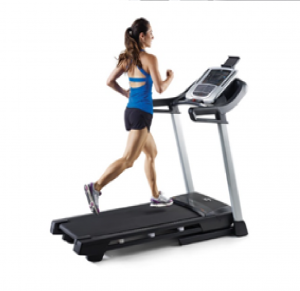 The 20 inches by 55 inches wide deck is more than spacious for you to run, walk or jog, even if you're a tall heighted person. When operational, it gives you a very wholesome and enjoyable experience without interruptions. Due to the strong motor, FlexSelect cushioning and 1.9 inch precision rollers you get a serene and contendedworkout. FlexSelect cushioning act like shock absorbers and reduce impact when you are in contact with the machine, while the rollers work to control heat and wear and tear on the tread belt. These commercial grade rollers help in extending the life of the treadmill exponentially. The C-700 has a footprint of 78.3 inch length, 35.75 inch width and 56 inch of height but user doesn't have to worry about the machine taking too much room. With SpaceSaver technology, the treadmill is able to fold its deck up vertically, freeing up space and giving you ample room to move around and carry out your daily tasks in the house. C-700 also has easy lift assist. EasyLift assist helps you lift the deck without putting too much work and energy into it, it has a hydraulic operation that does all the work for you, so you don't have to put strain on your back and other body parts when lifting and opening the treadmill. It asks you to move only once you've pressed the start button on the machine. C-700has a cooling fan, called AutoBreeze, to regulate your body's temperature and keep you cool during your workout. It automatically adjusts according to the intensity of your work out, again giving you a hands free experience. C-700 has a tablet holder for you to use your tablet concurrently, making it easy for you to use workout plans that outsider applications have to offer, read news or even watch videos.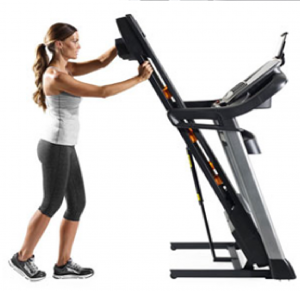 Weight Capacity
The machine has a modish structure. It has a robust steel frame that is built to survive the pressure induced by a 300 pound weighing body, making it stronger than other typical treadmills. NordicTrack also gives you a lifetime warranty on the frame so you can tuck your worries away and focus on your body. Besides the frame the screen is bordered with an alluring design, giving it a serious boost in details and over all attractiveness. The screen is also lined with clear, easy to read buttons that help you start and stop the machine, change your incline levels (ranging from 1-10) and speed levels (ranging from 1-10) and jump between settings without interruptions. The C-700 is a product for all ages as it has taken a complex procedure and made it simple to the bone. It also has an access tray for you to keep your essentials inlike, keys, cell phones, books, bottles, etc.
Entertainment Access
You can make your atmosphere more personal with the MP3/iPod compatible music port and dual 2inch speakers. You can put on your choice of music, whether it be hardcore, rock to pump you up for an intense run or soft jazz for a smooth walk. The music mixed with the iFit's interactive Google Maps interface will give you an experience no other treadmills can provide to you indoors. Plus with the tablet holder you can also use your social media applications, watch videos and go through the news to keep it enjoyable.
Shortcomings
However, just like every other product out there, the NordicTrack C-700 does have some drawback attached to it that may not appeal to consumers as much. The machine does not have a silent motor, if you are a person who prefers some peace and silence then you might have to make a few compromises with this console. For those users who look for a super intense and long running session, this machine might not be the right one for them as it offers a top speed of 10 mph only. NordicTrack also offers only 1 year warranty on parts of the treadmills.
Final Pitch
Finally, I'd like to say that this is a product made perfect for home, family friendly environments. Using the C-700 you don't have to think of exercise as a chore anymore. This treadmill doesn't stop you from carrying out your daily tasks. You can read you book, watch you movie or TV show and listen to music simultaneously. It will improve your cardiovascular health by increased oxygen intake and even lower your blood presser. You don't have to put unnecessary strain on your joints anymore because this machine promotes joint flexibility with its modern day technologies and facilities. It can help you tone your muscles using high speeds and incline features. This machine has made weight control and calorie burning more convenient. All this in the comfort of your home. Similarly, this become a must have product for gymnasiums available to the general population. With easy to understand controls, comfortable experience and state of the art facilities, the gyms will be doing a good deed by delivering this to their members. It is a very intuitive product. The assembly of this product requires two people. It is not time consuming at all. It has a simple 22 step assembling procedure given in its manual, which can also be found online. The company ships it with an Allen wrench, a Phillips screwdriver and a hex key but it's preferred for you to keep a few other tools handy. With the step by step instruction given you to. You may also get free shipping from various outlets if you purchase this treadmill online.
| Workout Variety | |
| --- | --- |
| Motor HP | 2.75 DurX"Commercial Motor |
| Duck | FLEXSELECT CUSHIONING |
| Incline | 0 to 10% |
| Treadblet | 20"x55" |
| Folding? | Yes |
| Heart Rate Monitor / Option | HEART RATE MONITOR |
| Speed | 0-10 MPH |
| Interactive Training Program | iFit |
| Display Console | Multi-Window LED Display |
| Fan | AUTOBREEZE Workout Fan |
| Weight Capacity | 300 to Limet |
| Built-In Programs | 20 Workouts |
| Oimensions | 73.3" L X 35.75" W.X 56" H |
| Warranty Info | Lifetime Frame Warranty. a 25-year motor Warranty. and Lobar Warranty |
NordicTrack C-700 Treadmill Review
Pros
Controllable flex cushioning
Built in work out programs
Tablet holder
SpaceSaver design
iFit enabled
Cons
Short warranty on parts and labor
No back lit LED screen
Short track (55 inches)
Low quality track