NordicTrack Commercial 1750 Treadmill Review
About NordicTrack Commercial 1750
The Commercial 1750 is one of the top rated commercial grade treadmills by NordicTrack.It gives competing brands and models in the same price bracket a tough match. The treadmill is herded by a robust 3.8Continuous Horsepower motor which helps the machine attain a top speed of 12 Mph (19 km/h). Alongside the ability toincline the ramp by 15%, it has the function to decline it by 3% too. This is a function hard to find in traditional treadmills in this price range. The machine is also equipped with new age features that attract a lot of enthusiasts. It has a sound system with dual 3 inch speakers and an iPod compatible port for users. Commercial 1750 also has 2 cooling fans installed in the console. The user can also switch between speed and incline levels with ease using the buttons provided. The appeal is boosted with the 7 inches high definition iFit compatible touch screen. With a full 60 inches long and 22 inches wide track, the treadmill accommodates users of all shapes and sizes. The deck has an on/off cushioning system to provide a comfortable run. Commercial 1750 has 38 pre-installed workout programs also.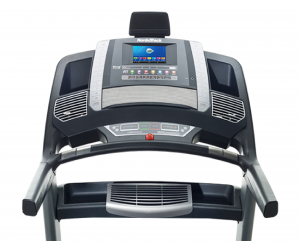 Quick Review
NordicTrack commercial 1750 has a lot in store for the users therefore it is considered an ideal equipment for all athletic needs. With the Commercial 1750 users can choose between full-fledged training activity and a jaunty workoutdaily. This model gives users the option to have an enjoyable exercising experience. This treadmill builds up your endurance and agility with the amazing top speed and incline range. The incline function can help customers in defining their muscles and helps them in overall physical improvements by advancing their metabolism rate.
NordicTrack Commercial 1750 is easy to operate due to the one touch operations so users aren't burdened by different complications. It has up to dateresourcesavailable to make the workout efficient. The features this treadmill brings can classify the machine as a reliable and durable one. These features bring the day to day motivation to work out to the user's attention. Due to the hassle free operating processthe treadmill becomes very responsive for the users. The exercisesoffered with the iFit app and pre-installed programs are plentiful for the customers. With Commercial 1750 you have the power to control and change your environment to your liking, making it easier for you to stay motivated throughout.
Workout Variety
With the option for users to switch between different speeds and incline levels comes the advantage of choosing 4 major categorized workouts. Commercial 1750 has 12 speed changing options, placed next to the console for users to switch and choose a comfortable speed. At low speeds users can choose to walk long distances. Walking or jogging which is a great way to make slow progress during training or user can choose to run on high speeds without interruptions because the 3.8 CHP motor is able to support long periods of running on the treadmill too. Besides the ability to switch speeds, the treadmill can also switch incline levels of the ramp. Users get accessed to intense incline workouts that can burn calories five times as faster than normal workouts.
Commercial 1750 is equipped with 38 different pre-installed workout programs that are categorized under different target oriented workouts like, heartrate control, calorie burning, speed, incline and high intensity. These categories accommodate every user because the 38 programs range from the beginner level to professional level. If users are looking for a more extensive workout field then the treadmill is also iFit enabled giving you access to hundreds of trainer assisted workouts present on the iFit applications that are designed by certified experts. Furthermore, if a pre-planned workout doesn't satisfy the users, they can also create custom plans and follow them. iFit also has a Google Maps program where the users get to choose a place anywhere around the world to run and see where they are with the street view. You can also challenge and race against people online using the iFit application.
Lineaments
The Commercial 1750 has a booming 3.5 Continuous Horsepower DurX commercial grade motor that lets the users run long distances and switch speeds and incline levels without interrupting the workout. The motor is more than capable to support any workout program, online or built-in, the users chooses. The motor is also very silent when switched on so the user can have a poised atmosphere to work out. Commercial 1750's motor has alifetime warranty.
Commercial 1750has atop speed of 12 mph (19 km/h) which welcomes runners to consider this model when looking a top quality and durable treadmill. The treadmill also has a 15% incline rangeand a -3% decline range. Users can take advantage ofincline and decline workouts as they offer a fast calorie burning process and delineatedifferent muscle groups in the body. Users can change speed and incline on the treadmill with the one touch action buttons places on left and right side of the console and set them to abefitting level. However, if a workout program is chosen, it will control the speed and inclination itself, letting to user workout more freely.
Commercial 1750 has a 60 inch long and 22 inch wide track. A spacious track for customers, of all shapes and sizes, to move freely on the machine. It has a 2.5 inch high quality precision roller, with bearings that supply the roller with high tolerance which increases the motor's life. The roller has an effortless and hushed operation. The deck has ahigh qualityof non-stretch double ply tread belt that gives a steady grip to users whenexercising. This reduces wear and tear on the belt increasing the durability of the track. RunnersFlex cushioning is present on the track for comfort of the users. It reduces the stress induced on joints while running. The cushioning can be toggled on and off according to the user's preference for either a firm to work out plane, mimicking a street like experience or a relatively softer plane.
The deck of the treadmill can be folded in a vertical position. It has a SpaceSaver design for easy storage, and with EasyLift technology lifting the deck becomes easier.  The unfolded treadmill has a footprint of 72.25 inch length, 34 inch width and 61 inch height.
The machine has a 7 inch web enabled touchscreen.
There are heartrate monitoring sensorsin the handlebar that help users keep track of the heartrate. Users can use the wireless chest strap which is included when the treadmill is purchased. It helps in tracking heartrate more efficiently.
There is also an adjustabletablet holder and a USB charger placed at the head of the console and you can keep a tablet there to help you stay entertained while working out and charge your electronic items simultaneously. Dual 3 inch speakers with an auxiliary port lets users to listen to their choice of music while they are on the treadmill. Two AutoBreeze cooling fans that regulates the user's body temperature and is programmed to adjust according to the workout intensity and an access tray to hold your belongings, like keys and wallets, while you exercise. The frame is very sturdy and can support up to 300 pounds of weightShortcomings
The Commercial 1750 is a foldable treadmill but it lacks portability. It weighs around 315 pounds making it harder for the user to shift it around. The assembly of this machine can prove to be cumbersome also. It is very time consuming and might need multiple people working to put the treadmill together or pay a professional to do it.

Final Pitch 
Commercial 1750 is the bestselling treadmill in the market. It gives users satisfactory performance and results. The treadmill has an abundance of programmed and physical features for customers to get a great experience with. Furthermore, NordicTrack gives a great deal on the warranty of this product with lifetime warranty on the deck, frame and motor, 5 years for parts and electronic and 2 years for labor services. All in all this treadmill gives users access to the facilities they'd get by spending twice as much money.
| Quick Review | |
| --- | --- |
| Motor: | 3.8 HP |
| Incline: | -3 to 15% |
| Running Area: | 22" x 60 |
| Folding: | Yes |
| Top Speed: | 12 MPH |
| Weight Capacity: | 300 LBS |
| Dimensions: | 72.25" L x 34" W x 61" H |
| Built-In programs: | 30 |
NordicTrack Commercial 1750 Treadmill Review
Pros
Spacious running belt area
SpaceSaver design
3.8 Horsepower motor
Incline and decline functionality
7 inch touch screen
Cons
Heavy; low on portability
Response on repairs could be slow
Large footprint
Time consuming assembly