Nordictrack Treadmill Desk Platinum Review
ABOUT NORDICTRACK TREADMILL DESK PLATINUM:
Built with the promise of combining work with workout, the NordicTrack Treadmill Desk Platinum enables its users to accommodate their exercise routines without losing productivity. From being able to watch a movie, to completing an assignment or even taking a virtual spin via Google Maps, the NordicTrack Treadmill Desk Platinum serves it all. With a 3.0 continuous horsepower and a whopping 60 inches long- cushioned track alongside a 40 inches wide desktop, users can potentially reach a speed of 8 miles per hour allowing for not only a vigorous cardio but also avoidance from the 'sitting syndrome' that lets users slack during work hours. It also possesses a 'Power Incliner' where the usage of built-in buttons can tilt the NordicTrack Treadmill Desk Platinum by up to 10% enabling calories to shed and muscles to tone out much faster. The iFit technology installed in NordicTrack Treadmill Desk Platinum brings infinite workout routines to your fingertips, be it your Smartphone, laptop, tablet or treadmill desktop. Not only that, but it also wirelessly controls the treadmill's speed and inclination while the 'Google Maps' setting provides a depiction of the streets around you. The most prominent feature of this treadmill i.e.; the 'Desk' is 40″ wide and 18″ deep with an inch worth of mahogany layer protecting it, making it much more durable than the other treadmills. Other prominent features apart from an auxiliary cord and a USB port include the offer for absolutely free shipping and refund within 30 days of purchase.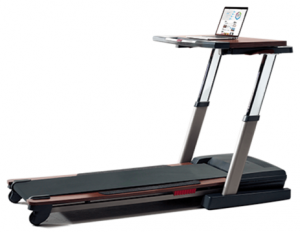 QUICK REVIEW:
The NordicTrack Treadmill Desk Platinum is evidently a far more improved version than its predecessor. These include tweaks in incline capacity, top speed and uprights tailored to suit individual needs. A vast range of settings allows its users to select anything from a light walk to a jog to a full-fledged run depending on their needs or plans for the day. This, coupled with added assistance by iFit enables users to make the most out of their workout time without being incessantly drained out. The updated processor alongside digitally adjustable features incentivises the users to explore different forms routines that'd suit them better. Flexible uprights make it inclusive for users of all heights and ages making it a more viable option when choosing a desk-treadmill. The broader simplification of its functions makes it more accessible and motivating than ever before and provides a gateway for workaholics to accommodate a proper fitness schedule. It's 'just the right size' as claimed by numerous satisfied consumers and the ability to be folded makes it a product friendlier to households, big or small. The new and improved NordicTrack Treadmill Desk Platinum is quieter, sleeker, faster and more durable than any other competitor. It definitely does stick to its tagline of providing 'A New Take on Productivity.' Its cushioned track makes every step taken lighter on both, the users' feet and the treadmill itself, preventing heating up and ensuring a longer life sticking to NordicTrack treadmills' most prominent quality, Durability. The high quality parts used for the motor, the running belt and the desk itself are less subject to wear and tear making this treadmill easier for users to maintain and operate. Not only that, but the NordicTrack Treadmill Desk Platinum encourages users to push themselves to their absolute limits and achieve their potential by providing a multitude of entertaining distractions like the built-in usb port for playing movies, charging phones or simply playing uplifting music that brings up the enthusiastic vibe.
WORKOUT VARIETY:
The NordicTrack Treadmill Desk Platinum offers an inherently vast range of workout plans to cater to its users with diverse routines. Its advanced iFit technology provides the trainees with a round-the-clock fitness trainer to assist them in maintaining their physique. The Google Maps feature is improving on a daily basis providing fresh, changing workout routes every day. On the off chance that the client isn't happy with the exercise designs that are being offered by the iFit application, then they likewise have the self-rule to make altered exercise arrangements to themselves that they think will suit them best to helpshow signs of improvement coming about. These plans, devised under the responsibility of highly-trained and experienced fitness trainers aim to accommodate users from novice to a professional level and can be followed by the synchronising the treadmill to your personal tablet or computer using its Bluetooth feature. Its 3.0 CHP DurX motor enables a quiet ambience alongside an absolutely smooth running experience and allows users to alter their current speed and inclination without halting the exercise altogether helping them target particular areas to burn fat tissue from.
 LINEAMENTS:
Its 3.0 Continuous horsepower DurX Industry-Standard motor helps tremendously in serving the purpose it was made for, providing a close to soundless workout experience coupled with the ability to be a professional sprinter's treadmill. Users can attend calls or easily complete work assignments with minimal distractions..
The treadmill's ability to self-cool its cushioned track of 18″ X 60″ not only makes the steps feel lighter hence taking a lighter hit on the users' stamina, being more forgiving on the joints but also helps the machine last much longer than conventional desk-treadmills by enhancing mechanical fluidity and having a state-of-the-art shock absorption mechanism. While all other treadmill desks peak at around 4 miles per hour, the NordicTrack treadmill desk has twice the top speed with the maximum clocked at 8 miles per hour alongside the capacity to incline by 10% Its revolutionary SpaceSaver Design allows users to fold up the machine vertically and save on floor-space which is specifically helpful for smaller households. The folded treadmill can then be substituted for a work-desk by simply adding a chair in front of it! The treadmill's desk itself is extremely generous with its space, possessing dimensions of 40 inch by 18 inch made out of pure mahogany which means the user can keep not only his/her laptop or tablet but also files, receipts as well as other important documents helping them feel more comfortable in their newfound work environment
The desk also uprights with ease between 26 and 42 inches to facilitate users of all heights for jogging, running or using it as a makeshift study table. Apart from all of this, the treadmill also tracks your heartbeat and other stats, displaying them on the desktop as they place their users' safety over everything else. The desktop has an LCD screen built into it which displays the progress the user has made thus far including things like, number of calories burnt, minutes spent exercising and current speed and inclination which can be conveniently changed via just a touch on the control buttons if the user feels the need to up their game.
SHORTCOMINGS:
The NordicTrack Treadmill Desk is considered rather expensive for other treadmills in its range and coupled with the iFit subscription which is also costly, acts as a deterrent to the purchase of the machine. This treadmill doesn't provide preset offline workout routines like its counterparts. Apart from this, the warranty for parts only covers a timespan of two years which is quite less when compared to other treadmills of this particular price range. Also, the desk top boasting a lot of room is not well equipped to handle keyboard trays or monitor arms and has a rather tight range of height adjustability that makes it a little uncomfortable for unusual heights.
FINAL PITCH:
The NordicTrack Treadmill Desk may have a couple of downsides but the fact that its speed is twice as fast as any other desk-treadmill and the innovative idea of combining work with working out, it ensures the user excels in both areas. With the new iFit technology and a stock of entertainment, it assures to keep its users satisfied on all ends.
| QUICK REVIEW | |
| --- | --- |
| Motor: | 3.0 HP |
| Incline: | 0 – 10% |
| Running Area: | 22" X 60" |
| Folding: | Yes |
| Top Speed: | 8 MPH |
| Weight Capacity: | 350 LBS |
| Dimensions: | 77" L x 40.5" W x 48.7" H |
| Built-In Programs: | none |